First of all...yes I have dropped the ball on blogging. Second, it won't ever happen again and I can confidently make the statement that my blogging will be better for a few reasons. 1) I finished grad school. I officially have my masters degree from Emporia State University!!!! 2) I downloaded this ah-mazing app on my iPad and it makes uploading photos and writing blogs a million times faster! And finally 3) it is almost summer and I will have much more free time on my hands!

Now that my disclaimer is out if the way I have lots of catching up to do. This post is from all the way back in February. For some reason or another I signed up for this Valentine's Day "love" run. You could sign up as a couple or register as a "single". I figured I needed a race to get the running season started... So signing up for a "love" run as a single seemed the obvious choice... I mean "what the heck...why not?" right?

Now when I signed up for this race, it apparently did not cross my mind that it was early in February and would be COLD. Now if you have forgotten from my earlier posts...I hate the cold. Running in the cold is not on my list of favorite things...and running on ICE is dangerous for someone as graceful and coordinated as me...but instead of bailing on the race like I wanted to I sucked it up and ran. Again, what the heck...why not?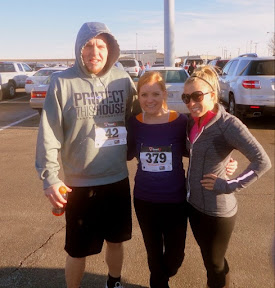 Andy, Kristen and I ready for the race. These two are responsible for me signing up for the race.

Notice the piles of ice and snow....

Hmmmm......?

These guys had to be freezing!!!
Getting ready to go.

Post race with icy lungs

Pretty sure I am scolding him for making me do this race.